More ActionLog Information...

The On-Line Coaching Journal Screen...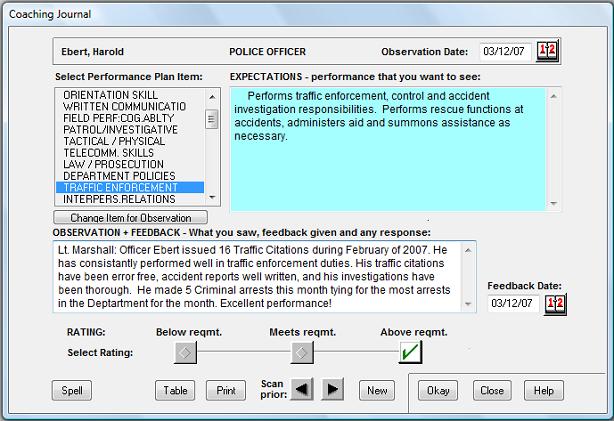 The performance plan expectation.
Rater's comment.
Customizable rating scale.
Rating selector.
Easy navigation.


Solves Common Problems...
• Employee complaints with old methods:

- "Nobody told me what they expected...until my appraisal."
- "Nobody gave me feedback to let me know how I was doing, so that I could improve."
...problems solved by ActionLog's continuous coaching!
• Management complaints with old methods:
- Employees' performance often misses the target
- Inadequate performance documentation for legal protection
- Preparing appraisals takes too much time
...problems solved by ActionLog's performance plans and Coaching Journal!
· Truly effective performance management, using continuous coaching and 360 degree assessment, is often difficult and expensive to implement, but ActionLog makes it easy and inexpensive.
· Performance management software often puts the user in a straightjacket, allowing only narrow capabilities for creating your own performance plans and rating scales, and little or no job-specific sample text to use and adapt to your own needs. But, ActionLog allows great flexibility and provides a job-specific library of sample performance plan text for over 350 common jobs.
· Security and confidentiality issues are often dealt with inadequately, but ActionLog provides a robust multi-level password security system, and all coaching and rating data is encrypted for confidentiality.
Powerful editing tools enable quick creation of reusable performance plans using both standard and original text...
· Multiple rating scales available - 3 point, 5 point, etc. Rating nomenclature is customizable.. · Weighted scoring available for each part of a person's job, to reflect the varying importance of the topics being rated. Performance plans can be printed on demand or accessed on line.
· Access and confidentiality are tightly controlled by a multi-level password security system. · Coaching Journal comments and ratings can be easily filled out on line...

Measurement of Results...
· Individual 360 degree assessment report

·

Performance appraisal on demand · Ranked ratings by employee group Why ActionLog Is Your Best Choice...
· Easy to setup and use

· Affordable and adaptable for any size organization

· Powerful tools and text library for creating customized job-specific questionnaires

· Multi-level password security system

· Superb technical support with direct access to the software designers

· Automatic reminder system for coaching and projects management

· Includes project management within the scope of performance management
Many

Reports And Graphs Available...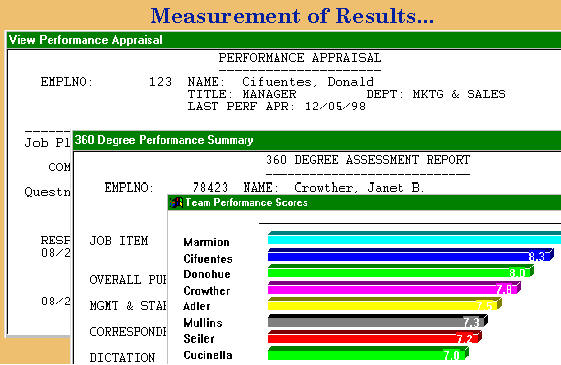 Where Used

Designed for use by all types of organizations, of all sizes. For example, the Mt. Lebanon, PA Police Department has successfully used ActionLog to help its 44 officers and 52 school guards achieve their best potential.
---



Pricing Structure: (all amounts shown are in U.S. dollars and include 1st year tech support and software updates)

The regular price for the single-user version of ActionLog is $595. For a limited time only, this version is available at the introductory specail price of $495. The regular network pricing is as follows: Basic 5-user network: $1,995 - additional concurrent user rights available at $350 each. (Compatible with Windows® Vista, XP and 2000. Large networks require Advantage Database Server® client/server database engine.) Subsequent Years Updates And Tech Support

30% of first year license fee.

Money-back Guarantee (single user version only):

If you are not completely satisfied with the ActionLog single user version, just phone us for a return authorization code, uninstall it from your computer and return the product to us within 30 days of your purchase. Then we will refund your purchase price.
---