QualityCoach/360TM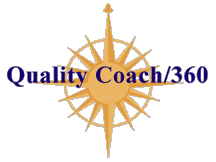 The only management software that gives you the combined power of Total Quality Management, continuous coaching, and 360 degree assessment in a single team- building tool.
"It's exactly what we needed to help implement 360 and TQM at our hospital."
-Mark Stefanov, Engineering Services Director
Straub Hospital, HI
"We got QC/360 to help our managers save time doing appraisals, stay caught up, and also strengthen our TQM effort. Tech support is outstanding."
-Diane Murasky, HR Manager
B & G Manufacturing, PA
"The continuous feedback feature greatly enhances the evaluation system we already had in place. Plus it automates tedious tasks and keeps track of due dates."
-Civilian Personnel Officer
U.S. Army
NO RISK 60 day Satisfaction Guarantee
YOU BE THE JUDGE


Put QualityCoach/360 to work for you. Then, if you are dissatisfied for any reason, simply remove the software from your computer and return all materials within 60 days for a full refund.

How QualityCoach/360 works to improve employee performance...
(and increases job satisfaction, too)

"Test drive" QualityCoach/360, risk free

System requirements



Leadership Software Corp.
1-800-872-0068
Nyack, New York



© 1997 Leadership Software Corp. All rights reserved.